The simple answer that means success for a ventriloquist to perform with a famous character, for example Stan Laurel ventriloquist dummy.
Stan Laurel was one half of the comedy double act Laurel and Hardy, who made  audiences laugh for decades with their TV shows, movies and stage shows never going out of comedy and entertainment fashion with age.
Just by incorporating a ventriloquist doll such as Stan Laurel into a ventriloquism act, the audience instantly recognise the ventriloquist is:
professional
competent
confident
Obviously, with a comedy legend such as Stan Laurel sat on your lap, everyone knows a ventriloquist has a lot to live up to, because only a serious professional would use a character ventriloquist dummy, surely?
Character ventriloquist puppets = best ventriloquist
Who doesn't want to succeed in life, or business, or love? Likewise, if you're a ventriloquist meaning success can be defined by many different aspects.
Here's the deal:
You may have the funniest lines, you may be the most technically adept at throwing your voice, but there's one criteria that means success for a ventriloquist – and in this article, we're going to show you what that is.
Let's take a closer look at the benefits of using a character ventriloquist dummy
As any potential ventriloquist knows, the act is all about misdirection. If you get your audience focussing on the ventriloquist puppet, it leaves the ventriloquist more relaxed to focus on throwing his voice.
By using a character ventriloquist dummy, an audience will automatically be more engaged, more focused and watch the puppet more than they will watch you.
If a character ventriloquist dummy looks authentic, sounds authentic and acts authentic, guess what? The audience will consider the ventriloquist is authentic, which in turn will relax them more and they will participate – laugh, clap, cheer etc. – more.
As everyone will recognise your character ventriloquist dummy, in this case Stan Laurel, they will know you have the confidence to recreate his expressions, his personality, his voice and his actions, which in turn will increase their confidence in your act.
Here's what a Stan Laurel puppet can bring to your ventriloquist act
We've mentioned why a character ventriloquist dummy translates into a ventriloquist meaning success, but let's discuss now the physical benefits of investing in a Stan Laurel puppet.
The Basic Stan Laurel ventriloquist dummy stands 24 inches tall, is easily operated with one hand, and has a stuffed body and plastic head. His mouth also moves – using a string in the back of his neck – and he's dressed in dungarees with "Laurel" printed on them.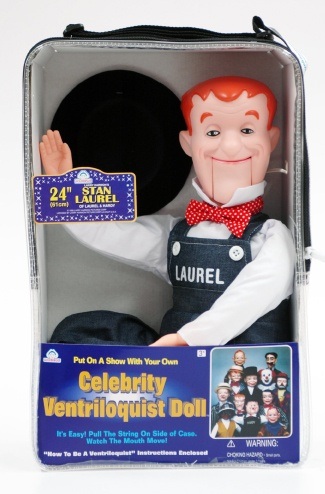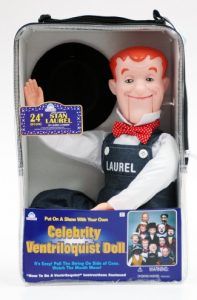 As anyone that remembers Stan Laurel will tell you, his surprised expressions, upturned grin and raised eyebrows always brought fits of laughter to his audience, and they're all faithfully recreated in this basic Stan Laurel ventriloquist dummy. He's also wearing a rather nifty red polka dot bowtie, and has a replaceable hat to go on top of his strawberry blonde hair.
In addition to the dummy, he's also supplied with a vinyl carrying case for protection and convenience. Finally, as an added bonus, Stan also brings with him a "Seven Steps to Ventriloquism" instructional booklet to help hone your ventriloquism skills.
Finally, for those that would like an even more fully-featured character ventriloquist dummy, there is also a Standard Upgrade Stan Laurel ventriloquist dummy. Complete with a fully movable head, which can tilt and turn by using a control stick, Stan is also fitted with a hard, hollow body. Given all these extra features, Stan is still easily operated with one-hand and especially when seated.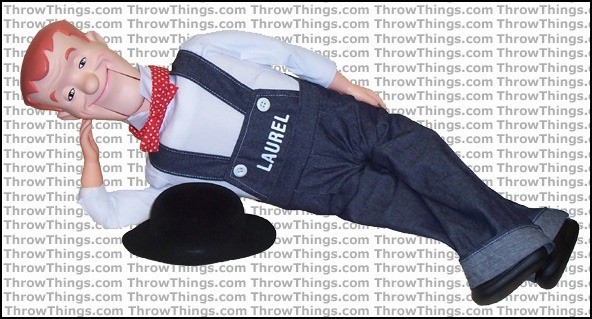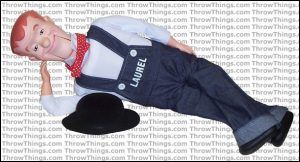 Here's what Stan Laurel can't help your act with
Unfortunately, as good as he is, by using a character ventriloquist dummy such as Stan Laurel, you still have to do the hard work yourself.
Whilst he can help you with laughs, engagement, support and interest, you still have to keep your ventriloquism skills in top form to keep up the expectation having such a superb puppet will bring from an audience.
Why not take a look at our blog section for an introduction to more awesome ventriloquist dummies?
Why you really need Stan Laurel today
You know the benefits having a character ventriloquist dummy will bring you.
You know that every dollar you spend on investing in a character ventriloquist dummy will bring back many more in terms of repeat bookings, packed out shows and enhanced reputation in your ventriloquism act.
However, what we don't know though, is why you still haven't ordered your Stan Laurel ventriloquist dummy yet 🙂