Emmett Kelly Jr clown dummy review
Emmett Kelly was an American circus performer from a bygone age of entertainment and showmanship. Emmett created the original 'Weary Willie' clown – based on hobos of the Depression era – so he will make the perfect celebrity ventriloquist doll for a ventriloquist comedian.
Let's take a more detailed look in this Emmett Kelly Jr ventriloquist dummy review.
When you recall Emmett Kelly Jr in those amazing movies, what's the first thing you remember? That's right – his sad, whiteface expression, with his trademark downturned grin – and that's perfectly recreated in this 24" tall ventriloquist doll. Even down to the beard, this ventriloquist puppet is a faithful tribute to one of the most loved comedians of our time.
Dressed in a gaudy jacket and pants, with a removable hat
Stuffed body with plastic head and hands
String in the bank his neck to move his mouth
Comes with "Seven Simple Steps to Ventriloquism" booklet
"How to Be a Ventriloquist" instructions included
Vinyl carrying case
The Basic Emmett Kelly Jr ventriloquist doll recreates his expression faithfully, but upgraded versions of the dummy are available to add even more realism and performance engagement for the serious ventriloquist.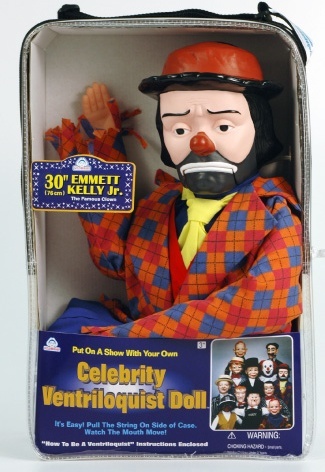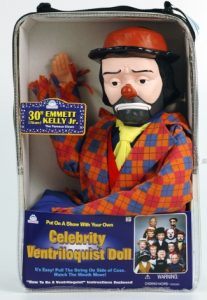 The Standard Upgrade Emmett Kelly Jr ventriloquist doll adds a hard, hollow body whilst the tilt-able and swivel-able head is mounted on a control stick. These two features add more interaction as you can fit your hand in the doll's back and control the mouth and head, which will help to divert the audience's attention away from you.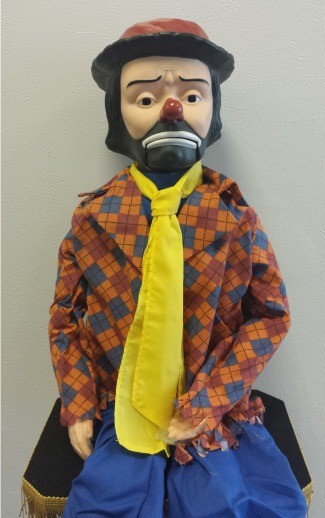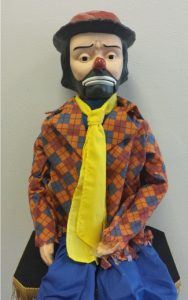 The Deluxe Upgrade Emmett Kelly Jr Ventriloquist Dummy brings even greater features such as moving eyes and a wig, whilst the head can tilt and turn fully around. Audience engagement with the doll – and distraction from you – will increase whilst they laugh along with your act.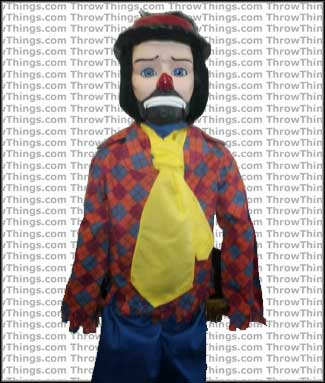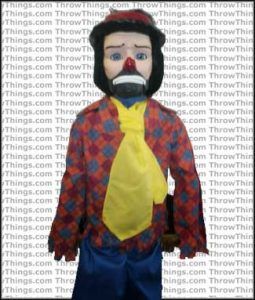 The Super Deluxe Upgrade ventriloquist doll of Emmett Kelly Jr adds an even more lifelike wig, moving eyebrows – all of which can be operated one-handed with controls on the control stick.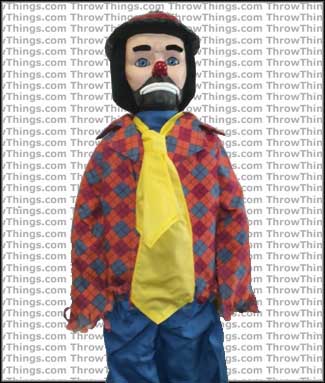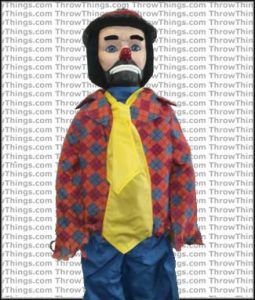 Although the Emmett Kelly Jr dummy looks great, the basic ventriloquist doll may be a little limiting for performance as the head does not turn.
Whilst the hair is plastic, and the eyes don't move, the looks of the basic ventriloquist doll are not as realistic as some of the upgraded models.
Upgrade ventriloquist dummies do not fit into the standard carrying case provided with the basic ventriloquist doll.
The Emmett Kelly Jr ventriloquist dummy is one of the most realistic puppets on the market, faithfully recreating his cheeky grin, surprised eyebrows and amusing expression.
By investing a little more into an upgrade – Standard, Deluxe or Super Deluxe – even more realistic features (eyes, wigs and eyebrows) are added to increase audience engagement and divert their attention from you to the dummy.
Why not take a look at a short video for an introduction to ventriloquist dummies? click here for video