If you're a ventriloquist, either if you're just starting out or have a few years experience, I'm sure you will agree what one of the biggest challenges is…
How do I build an affinity with my audience and create buzz for my act?
Well, as it transpires, there may be may be many ways but there is one surefire way that will always work – and it's a very simple step.
So, today's post is going to show you exactly how you can take this powerful yet quick step – and that's by investing a famous dummy such as Oliver Hardy ventriloquist doll.
Who was Oliver Hardy, and why do you need a ventriloquist doll of him?
Every good ventriloquist needs a great ventriloquist doll, and audiences quickly judge a ventriloquist by his/her ventriloquist dummy. The more recognisable the ventriloquist dolls are, the more professional the audience assumes the ventriloquist to be.
Why is this?
Well first, the audience presumes that if a ventriloquist has invested in a famous character such as Oliver Hardy ventriloquist doll, the more serious they are about their act.
Secondly, given that Oliver Hardy was one of the funniest and most famous comedians of the 20th century, with his mannerisms, voice and famous sayings such as "That's another fine mess you've got me into", the audience has a benchmark they expect the ventriloquist to live up in recreating that impression.
So, by investing in ventriloquist dolls as famous as Oliver Hardy, any budding ventriloquist can really draw in an audience to be totally engaged in his act. And remember, when an audience is enthralled and focussed on your ventriloquist dummy, it takes the pressure off the ventriloquist when he's throwing his voice.
What is so good about the Oliver Hardy ventriloquist doll?
Why would  you actually use the Oliver Hardy ventriloquist doll though, and what is so good about it, you may ask?
Because the audience need a believable famous ventriloquist doll, the attention to detail of the Oliver Hardy ventriloquist dummy is impressive.
Realistic and true-to-life appearance
Starting with his outfit, Oliver Hardy is dressed in shirt, tie and dungarees emblazoned with the name "HARDY" on them. This outfit, coupled with his famous chubby cheeks, raised eyebrows and bowler hat, will leave the audience in no doubt who your famous comedian counterpart is.
Lightweight and practical
Measuring approximately 24 inches tall, the Basic Oliver Hardy ventriloquist doll also comes with a vinyl carrying case, and a "Seven Steps to Ventriloquism" booklet to help you improve your skills as a ventriloquist.
Given the Oliver Hardy ventriloquist dummy is hollow body, he is lightweight and easy to use, even one-handed. Oliver's mouth is operated by a string fixed to the back of his head, which can also be operated with the same hand.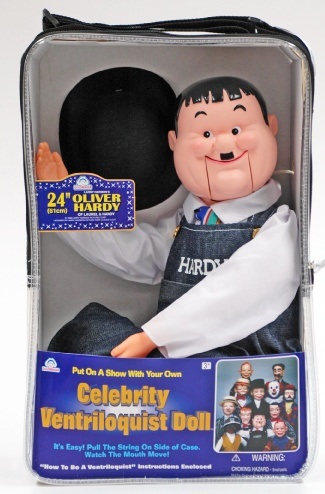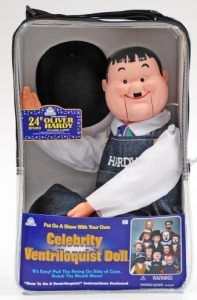 What I like about the Oliver Hardy ventriloquist doll
Even if the above four benefits are not enough to convince you to buy an Oliver Hardy ventriloquist doll, there are also Standard Upgrade dummies with additional features.
The Oliver Hardy Standard Upgrade ventriloquist dolls benefit from a more solidly built, hard body but also with a control stick to move Oliver's mouth.
The reason why I like the Standard Upgrade is, as any Oliver Hardy fan will tell you, his mouth and facial expressions were central to his whole comic persona. Thus any ventriloquist comedian who can recreate and maximise this mannerisms will truly master the art of ventriloquism whilst keeping his audience enthralled.

There's only one problem with the Oliver Hardy ventriloquist doll
Look, whilst I'm a big fan of the famous ventriloquist dolls, there is one big thing to consider, and that's the cost – they're not cheap.
So it's really up to the individual ventriloquist to determine how serious he is about his act, and how much he believes in himself, and if it's enough to justify the cost of a Oliver Hardy ventriloquist dummy.
My conclusion about buying Oliver Hardy ventriloquist dolls
if you are serious enough, and confident in your abilities as a ventriloquist comedian, then I would strongly urge you to consider investing in a famous ventriloquist doll such as Oliver Hardy.
Here are 4 quick reasons:
Your audience will take you more seriously from the start

The challenge of living up to a famous character such as Oliver Hardy will spur you on to improve

Whilst your audience is focussing on your ventriloquist doll, it's less focussed on you – which makes it easier to throw your voice

Being available in different upgrades gives you options about how to choose what suits your needs (and budget)
So the only question remaining is a simple one – if you're serious about becoming a famous ventriloquist comedian, are you going to buy an Oliver Hardy ventriloquist doll?